Advanced Product Search
Please use the category(ies) and search boxes below:
Coin Collecting Specials: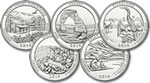 All 10 National Park Quarters released in 2014 at one Affordable Price. Both P&D Mints....
Featured Banknotes: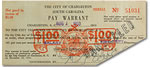 Emergency Currency for use in towns and cities for trade during the Great Depression...
If you cannot find the collectible you're looking for, please use our contact form to assist you.