Advanced Product Search
Please use the category(ies) and search boxes below:
Coin Collecting Specials: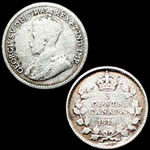 Canadian 5 cent silver coin, minted between 1911 and 1921....
Featured Banknotes:
2003 Qatar 1 Riyal Banknote featuring sailing vessels and coats of arms on the front with 3 birds on...
If you cannot find the collectible you're looking for, please use our contact form to assist you.