Falcon Coin and Currency
Falcon Coin and Currency specializes in Worldwide Coins and Banknotes for collectors. We strive to offer the very best in numismatics and look forward to serving you as a customer. Please note that all prices are subject to change without notice.
If you are a new collector, a great place to start is our Coins on Approval Service.
Coin Collecting Specials: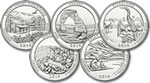 All 10 National Park Quarters released in 2014 at one Affordable Price. Both P&D Mints....
Featured Banknotes: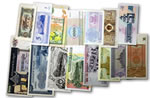 15 worldwide banknotes from the 50s...
Hard to Find Coins and Banknotes
Can't find what you're looking for? Give us a call or write us an email any time. We would be honored to help.