Falcon Coin and Currency
Falcon Coin and Currency specializes in Worldwide Coins, Banknotes, and Collectible Postcards. With Service to Collectors since 1945, we have experience you can trust. Few Collectors and their collections are the identical. You deserve personalized service.
At Falcon Coin & Currency, we strive to learn and understand the specific needs of every one of our customers as if they were our only customer. In this way, our highly experienced staff can supply you with the most custom tailored service possible. We look forward to serving you as our newest customer for many years to come.
Most Popular: Try our Coin Collecting Approval Service. It's like having your own private Coin Dealer.
Coin Collecting Specials: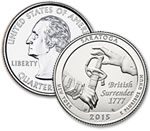 Saratoga National Historical Park Quarter in Uncirculated Condition. Denver Mint version....
Featured Banknotes: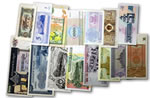 15 worldwide banknotes from the 50s...
Hard to Find Coins and Banknotes
Can't find what you're looking for? Give us a call or write us an email any time. We would be honored to help.